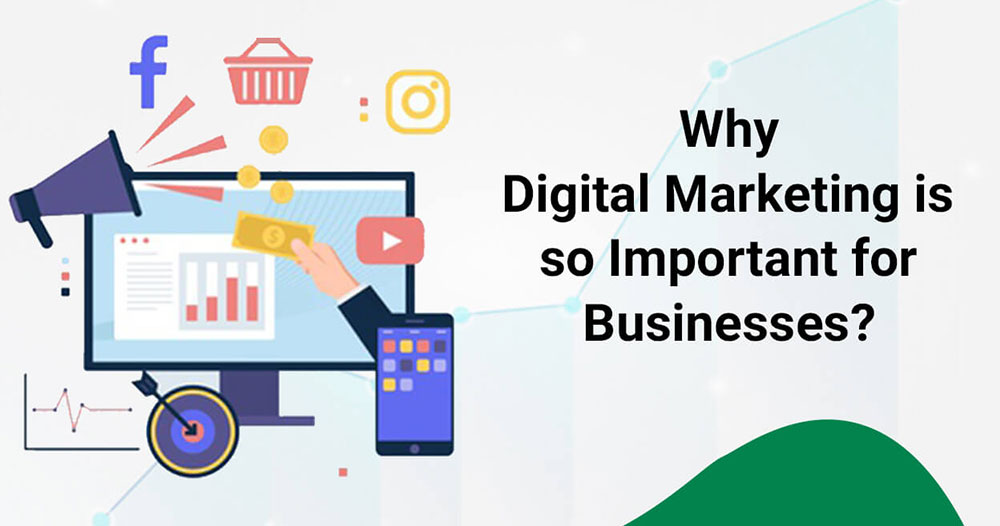 14 May

Why is using Digital Marketing Services essential/important?

Digital Marketing is also known as online marketing. In simple words, it is a market on the internet. You can buy, sell and promote your products and services online. Digital marketing is the most influencing and trendy way to score more customers and earn a profit. Under it, you can use several methods such as social media marketing, YouTube videos marketing, email marketing, blogging, etc. In this competitive world, it becomes difficult to sustain the market's dynamics. Every day a new competitor is born, and the technology changes frequently. People tend to look for new trends and tastes. To cope with up with this marketing world and keep up with its pace, all business firms need to use digital marketing services. Here are some good reasons for you:
The whole world is on the internet
You and we are able to connect from this article over the internet. We all can perform actions on the internet. This is the biggest opportunity a business person could ever use. People spend a lot of time on the internet since it serves you with the source of information, entertainment and connectivity. Therefore, if you are losing your business' online presence, you are missing a big deal. All of us tend to search for products and services that we wish to have. Digital marketing connects you to your relevant customers.
Target the ideal audience
Basically, with digital marketing tools, you get to analyze what your customer is looking for or what are his choices and preferences. You cannot let go of this opportunity away from your hands! Knowing what the audience wishes is perfect because then you can focus all your marketing strategies on the relevant audience. You can characterize your audience under traits such as age, region, gender, etc.
ROI means the return on investment. Digital marketing is found to be the most cost-effective and worthy technique to run a business profitably. For example, email marketing has been proved quite impressive and influencing among internet users (literally everyone).
Vital for small business' growth
The firms which are trying to grow from small business firms and flourish into a substantial empire, digital marketing is a must. In this era, you cannot think of, depending on traditional marketing strategies. Digital marketing is a big push to growth. You get to connect with the customers who wish for your products or services, but could not connect because of your online absence.
Conclusion:
If you are looking for a digital marketing service agency, Big Boys Consulting is the most suitable option. We have expertise in this field as our remarkable experience speaks for us. If you haven't got digital marketing services yet, contact us!
What services do you provide under Digital Marketing?
We at Big Boys Consulting facilitate services such as content marketing, social media marketing, search engine optimization, email marketing, Google ads and many other paid promotions. We provide you with platforms that ensure high ROI and effective branding of your product and services.